Welcome to Star Paving and Sealing Company – your premier choice for all your asphalt paving services in Bartlett, TN and the surrounding areas since 1976! As a locally owned and operated asphalt paving company, we pride ourselves on delivering top-notch services and exceptional customer satisfaction. With our team of highly skilled professionals and experts, we're dedicated to providing superior paving solutions for both residential and commercial sealcoating, repair, and installation projects.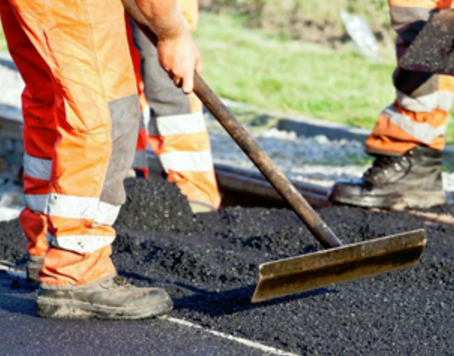 When You Need Dependable Asphalt Installation and Repair
At Star Paving, we understand that your pavement plays a crucial role in the overall appearance and functionality of your property. Whether it's a driveway, parking lot, or even a roadway, we believe that it should not only be aesthetically pleasing, but should also be durable, safe, and long-lasting. That's why we offer a comprehensive range of asphalt paving services to meet all your pavement needs.
Asphalt paving is our specialty, and we strive to be the best in the industry. Our team of experts is trained to handle any asphalt paving project, no matter the size or complexity. From new residential driveway paving installations and resurfacing to asphalt repair, overlay and maintenance, we have the knowledge and expertise to deliver exceptional results every time.
When you choose Star Paving, you can rest assured that you are getting the highest quality materials and the latest paving techniques. We work with trusted suppliers to source premium asphalt mixes that are specifically designed to withstand the harsh weather conditions of Bartlett, TN. Our state-of-the-art equipment and advanced technology enable us to achieve precise and impeccable paving, ensuring a smooth and seamless finish.
Our Commitment To Quality Work
Aside from asphalt paving, our paving contractors also offer a range of complementary services to enhance the longevity and appearance of your pavement. Our sealing services act as a protective layer against elements such as UV rays, water damage, and harsh chemicals, ensuring that your asphalt remains durable and attractive for years to come. Additionally, we provide repair and maintenance services to address any cracks, potholes, or other issues that may arise with your pavement.
Reasons To Hire Us
Choosing Star Paving means choosing a company that values professionalism, integrity, and excellence. That's why our team is licensed, insured, and bonded, giving you peace of mind knowing that your project is in capable hands. We adhere to the highest industry standards and follow strict safety protocols to ensure the well-being of both our crew and your property.
So if you're in need of an asphalt paving company in Bartlett, TN, look no further than Star Paving and Sealing Company! Just reach out to us today for a free estimate and let us transform your pavement into a durable, safe, and stunning asset that will stand the test of time. We look forward to working with you and becoming your trusted partner in all your asphalt paving needs!