From small commercial drives to major parking lots, Star Paving and Sealing Company welcomes commercial paving and sealcoating projects of all sizes. From resurfacing to parking lot striping in Memphis, Brunswick, Bartlett, and Lakeland, TN, we bring decades of experience to your project to ensure the very best results.
No matter the project, we promise great value and a surface that's ready to weather the elements.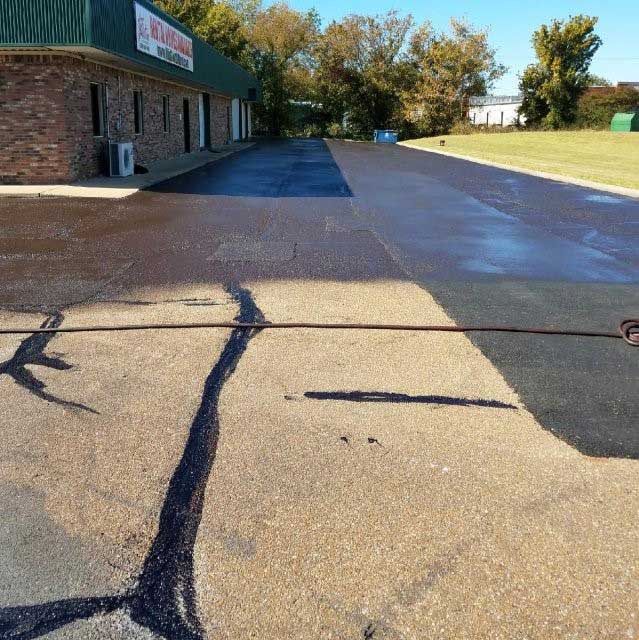 Tar and chip:
Tar and chip is a cost-efficient way to finish a commercial access road or other utility surface. It combines tar and aggregate for a surface that's strong, durable and ready to stand up to heavy loads and frequent traffic.
Parking lot repair:
As an experienced parking lot contractor in Memphis, TN, we're up for the task of paving your new lot or resurfacing an existing one. In addition, we're capable of delivering parking lot striping and traffic markings, compliant with all municipal codes and standards.
Excavation:
Our fleet of heavy equipment includes excavation machinery. We're able to dig out your commercial pavement site, grade everything and ensure it's ready for proper asphalt paving.
Sealcoating:
Sealcoating protects paved surfaces against rain, intense sun exposure and other forms of degradation. It's a wonderful investment, especially for newly paved surfaces. Plus, it makes your asphalt look that much better!
Paving:
We're available for all types of commercial paving jobs, big and small. From access roads to driveways, parking lots to patios, we do it all. Trust us for exceptional results that repay themselves in time through the great value they offer.
Jogging tracks:
We've paved asphalt tracks for rec centers, high schools and universities, parks and anywhere else people love to jog, race or walk! Rest assured we pave with precision, so the distance is always accurate.
Golf tracks:
If your links allow golf carts, make sure they've got a proper track to follow from hole to hole. We can pave golf cart tracks that don't interfere with the fairway, while exemplifying the accessibility of your course.
Crack sealing:
Cracks appearing in your asphalt? We've got you covered. We can hot-fill them to immediately seal them up and bond your asphalt surface against penetrating water or other debris.
Get in Touch
Contact Star Paving and Sealing Company with the details of your commercial paving or sealcoating project, and we'll gladly provide you with an estimate on service. Reach us today at (901) 553-5071 to discuss the scope of work.