It's amazing how quickly new asphalt can brighten up a property and make it look more appealing. Picture your cracked and cragged driveway suddenly smooth! At Star Paving and Sealing Company, we look forward to helping homeowners beautify and improve their property with residential paving services.
We've been a residential paving and sealcoating company in Memphis, TN since 1976, delivering only the very best results. We specialize in driveway paving and put in the work to make sure yours is paved right, so it stands the test of time and everyday wear and tear.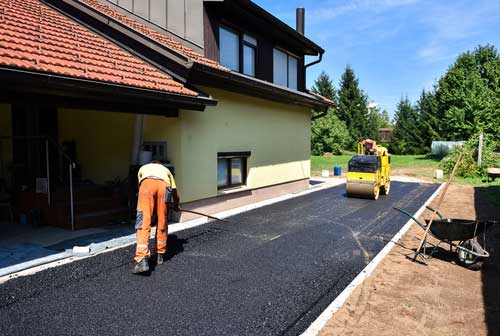 Driveway Paving
Have a gravel or dirt drive that's begging to be paved? Let our driveway paving team lay down an asphalt surface that's an instant improvement—one you'll come to appreciate for years. Not only is asphalt durable and smooth, it's a value-add upgrade for your property. You'll enjoy its benefits every day and even down the road, if you decide to move.
Driveway Repair
If you already have an asphalt driveway, but it's cracked and pitted from weathering and wear, give us a call! We're able to patch holes and hot-fill cracks to restore the longevity and resilience to your driveway. Driveway repair in Memphis, Brunswick, Bartlett, and Lakeland, TN is much more affordable than a complete refinishing—especially if the problem areas are minor.
Driveway Resurfacing
After years and years of heavy wear and weathering, even a well-paved asphalt drive will need major care and attention. If your driveway needs a fresh start, resurfacing is the way to go. We'll restore a like-new appeal to the surface and get it ready for many more years of wear and weathering.
Add Value and Convenience to Your Property
Ready to pave your gravel drive or breathe new life into your old, cragged driveway? Star Paving and Sealing Company can help. Give us a call today at (901) 553-5071 to learn more about our asphalt paving capabilities and to get an estimate on your residential paving project. We look forward to exceeding your expectations!